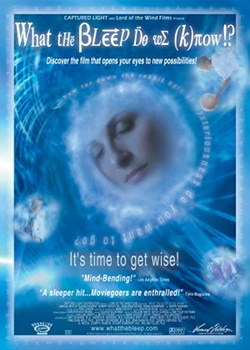 Tag line: "It's time to get wise!"
Uh-huh.
I heard about this movie from a friend of mine, who'd seen it, loved it, and urged me to go see it for myself. From the online trailer, and a couple of reviews I'd read, it looked like your typical pretentious yet shallow New Age fluff, and thus a complete waste of my time. Hell, I'd already suffered through half an hour of Waking Life, people! Nobody should have to endure that twice.
But: This friend is an even bigger skeptic than I am, and every time we saw each other he asked if I'd seen it. When I answered no, he kept insisting I had to see it. Okay, obviously somebody somewhere was missing something, and I couldn't be sure it wasn't me. I trusted my friend's judgement so, even though my expectations weren't high, I decided I had to go see it for myself. Keep an open mind, right?
My verdict: Bleah. Where do I even start? How about with the lazy, lazy writing? There's no story here. Most of the movie is taken up by talking heads babbling a lot of platitudes about the wonders and mysteries of Quantum Mechanics and the human mind. Most of what isn't talking heads is pretty special effects, of atomic nuclei and galaxies and… a sort of wormhole thingy, which maybe was supposed to represent quantum tunneling? I don't know. Oh, and a shimmering grid occasionally overlaid on the "normal" world, vanishing and reappearing at random, that was supposed to symbolize how illusory the real world is. It looks just like the Enterprise-D's holodeck grid, except that grid was yellow and this one is blue. A blatant ripoff, in my opinion.
The rest of the movie was taken up by a paper-thin parable, further driving home the messages of the talking heads. The characters are completely two-dimensional, and even that's probably generous: there's the Hard-Nosed Skeptic, who eventually starts believing in spite of her better judgement… and for some reason was written as speech-impaired (possibly hearing-impaired as well, though that wasn't consistently portrayed. More sloppy writing); there's her roommate (or lover? again, that part wasn't clear), the Somewhat Ditzy But Nice And Well-Meaning Believer; and you've got the Inexplicably Wise Basketball-Playing Kid, who appears out of nowhere to spout yet more wisdom at the Skeptic and coax her "down the rabbit hole." Viewers may identify with one or more of them to some extent, because they're so archetypal (to be charitable), but they have no way to really connect with them, or understand what makes them tick. But then, we're not supposed to connect with these characters. They—along with the talking heads—exist only to serve as mouthpieces for the movie's Big Message.
And what is that message? The usual New Agey clichés: The denial of objective reality ('cos we create our own reality, inside our minds and by interacting with the universe, because of quantum); the need for a "new paradigm;" the glorification of mystery over knowledge, and childlike wonder over skepticism; cool-sounding myths that are highly suspect (though not provably false), like the one about Native Caribbean people at first not being able to see Colombus' ships on the ocean because they'd never seen ships like that before; cool-sounding myths that are provably false, like Transcendental Meditation reducing crime rates. And through it all, very complex topics like QM and cognitive science being either misrepresented or mangled into sweet-tasting sound bites to support these mystical beliefs.
I walked out of the theatre after about 45 minutes; I'd been checking my watch and rolling my eyes for… well, pretty much all of the movie up to that point, really, but the mention of Transcendental Meditation was the last straw.
So what was I supposed to get out of this movie? That the world is a strange and exciting place? Yes, it certainly is. But I already knew that, from reading legitimate science books. That we can be slaves to our own perceptions and assumptions? That it wouldn't hurt to look at the world with wonder and fresh eyes from time to time? You won't find me disagreeing. But I believe that movies like What The Bleep Do We Know? are more a distraction than anything else. One may watch it and feel suitably enlightened or at least pleasantly confused, but ultimately the movie offers no genuine substance. Instead it shows some seriously exciting science, hopelessly distorted into a colourful kaleidoscopic jumble that gives lay people only the illusion of understanding. Do you want to see the world and appreciate its beauty? Do you want to change your life, become more than who you are now? Then go out there and do it. You don't need to waste your time with this vapid mystical fluff. The world is exciting enough without filling your head with other people's fantasies. As the late, great, Douglas Adams wrote, "Isn't it enough to see that a garden is beautiful without having to believe that there are fairies at the bottom of it too?"